Join us for
Quantiphi re:Invent Meeting Hangout
Nov 27 - Nov 29, 2023 | 8.30 AM - 3.30 PM
Smith & Wollensky,
The Grand Canal Shoppes,Suite 3377,
S Las Vegas Blvd, Las Vegas, NV 89109
Our GenAI Signature Offerings
baioniq
baioniq is Quantiphi's enterprise-ready Generative AI Platform on AWS is designed to help organizations rapidly onboard generative AI capabilities and apply them to domain-specific tasks.
QDox
GenAI-powered Document Processing
QDox, powered by Quantiphi's Active Learning AI, excels in precise document processing and data generation for advanced analytics. With the infusion of Quantiphi's GenAI capabilities, QDox GenAI can transform into a robust enterprise-ready generative AI platform, facilitating the integration of generative AI into document processing.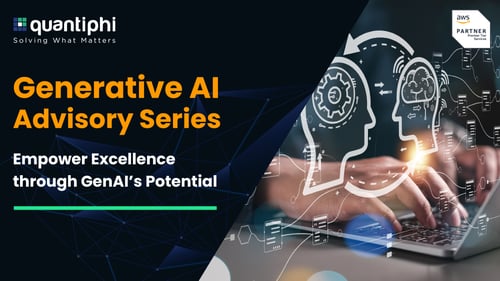 GenAI Advisory Series
Generative AI Advisory series is a comprehensive 4-day workshop series designed to address the pressing need for organizations to navigate the complex landscape of GenAI. Discover how AI can reshape your operations, drive innovation, and position your organization at the forefront of unprecedented growth.
Discover the best-fit infrastructure to migrate workloads, modernize existing applications, and harness the full power of the AWS Cloud.
Migrate data warehouse and increase accessibility by leveraging Quantiphi's Data Migration capabilities and AWS Cloud.
Modernize the contact centers to scalable cloud-based IVR and virtual agents for self-service. Enhance efficiency and get real-time insights with Conversational AI and Call Analytics.